About 500 people were evacuated on Friday after fire broke out in a shanty town in the South Korean capital, Seoul, fire authorities said. The fire erupted at 6:27 a.m. (0927 GMT) in Guryong Village in southern Seoul, which is home to more than 660 households.About 40 homes in the 1,700-square-meter (18,000-square-foot) area have been destroyed, fire officials said, with about 290 firefighters, 10 helicopters and police officers dispatched to contain the blaze. No casualties were reported. President Yoon Suk Yeol called for all-out efforts to minimise the damage and mobilise all available firefighters and equipment, his spokeswoman Kim Eun-hye said. Interior Minister Lee Sang-min also instructed officials to prevent any secondary damage and protect other residents in the nearby areas, the ministry said. — Reuters
Loss from fire :
The fire destroyed at least 60 homes as it steadily spread through the narrow lanes of the shanty. According to officials, there have been no immediate reports of injuries or deaths as firefighters continue to bring the flames under control.
Police officers and firefighters reached on time at place :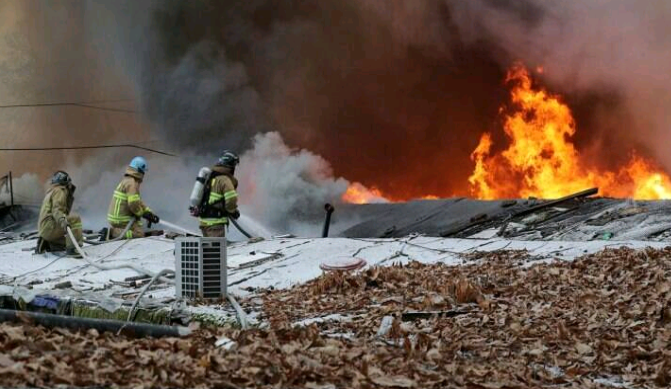 More than 800 firefighters, police officers and public workers were deployed to fight the flame and handle evacuations after the fire broke out around 6:30 am. Photos from the scene showed firefighters fighting the flame under thick white smoke covering the village known for its dense rows of makeshift houses as helicopters sprayed water from above.
Shin said it was presumed that the fire began at one of the village's homes made with plastic sheets and plywood. He said the cause of the fire was being investigated. Kim Ah-reum, an official at the Gangnam district office, said around 500 residents have evacuated to nearby facilities including a school gym. Officials were planning to later move the residents to nearby hotels.