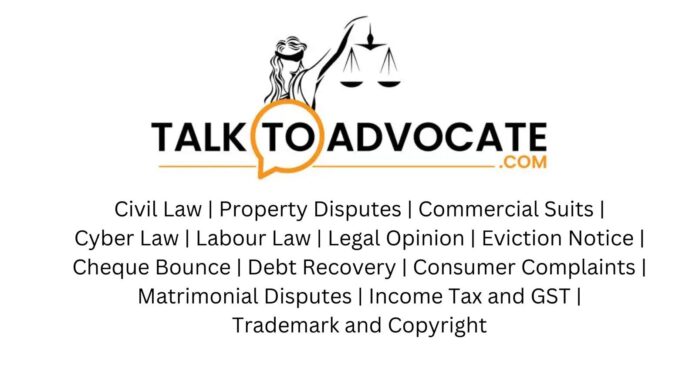 In today's world, legal disputes have become commonplace. From civil and property disputes to commercial contracts, intellectual property, business legalities, consumer disputes, tax compliances, GST and income tax disputes and also startups face a plethora of legal challenges that can be overwhelming without proper legal guidance.
In the past, finding a reliable and experienced legal advisor online was an arduous task. But now, with the advent of TalkToAdvocate.com by its founder Advocate Gautham from Coimbatore, the process has become significantly easier. TalkToAdvocate.com is an online legal platform that provides a range of legal services online, including legal consultation, legal drafting, and legal representation, etc. The platform is managed by a team of young advocates who are moderated by a team of senior most counsels and retired judges. This ensures that every client receives the best possible legal advice and representation.
The moderation team that moderates and advises on the proceedings of the legal suit is unique and one of its kind in the country. The founder of TalkToAdvocate.com, Advocate Gautham from Coimbatore has designed it in a manner that every single case would be discussed with the moderators and each of their suggestion will be considered and based on that suggestion the outcome will be derived and further based on those analysis the pleadings will be prepared. This means that clients can benefit from the experience of the moderators and expertise of the technologically updated young striving lawyers of the most respected legal profession in the country.
TalkToAdvocate.com offers a wide range of legal services, including civil and property disputes, commercial contracts, intellectual property (trademark/copyright/patent), business legalities, consumer disputes, tax compliance's, GST and income tax disputes, and startup legal consultation for business plans and investments. With such a comprehensive range of legal services on offer, all legal issues will be handled with the utmost professionalism.
One of the most significant advantages of using TalkToAdvocate.com is the ease and convenience it provides. With just a few clicks, clients can book a consultation with a qualified legal advisor online having the expertise that is required. Start-up founders find it difficult to reach to a reliable lawyer online with the recent updates on the technology so that they will understand the working of the innovative product that is to be launched, TalkToAdvocate.com will be the one stop solution for all those needs.
For startups and entrepreneurs, legal compliance can be a daunting task. There are several legal requirements that businesses must comply with to operate legally. With TalkToAdvocate.com, startups can receive legal advice on the various compliance requirements, including GST and income tax. The legal experts on the platform can also provide legal guidance on business plans and investments, ensuring that startups are on the right path to success.
TalkToAdvocate.com's team of legal experts is well-equipped to handle a range of legal issues. Their experience and expertise ensure that clients receive prompt and accurate legal advice. They also provide practical solutions that help clients to navigate the complex legal landscape. In addition, the platform is committed to maintaining the highest level of transparency and confidentiality. Clients can trust that their legal matters will be handled with the utmost discretion. TalkToAdvocate.com understands that legal disputes can be stressful, which is why they strive to make the process as smooth and stress-free as possible.
In conclusion, TalkToAdvocate.com is a one-stop solution for all your legal needs. With a team of experienced and qualified legal experts, the platform provides a range of legal services that cater to the needs of the common people, start-ups and entrepreneurs. The platform's commitment to transparency and confidentiality ensures that clients' legal matters are handled with the utmost discretion. With TalkToAdvocate.com, clients can rest assured that their legal issues will be resolved with the highest level of professionalism.