Republic Day celebrations at Kartavya Path: In a first, a combined band and marching contingent of the Egyptian Armed Forces took part in the parade.
Egyptian President Abdel Fattah El-Sisi was the Chief Guest this year. The 74th Republic Day parade in Delhi took place at Kartavya Path, the revamped ceremonial boulevard from the British period once known as the Rajpath, for the first time today.
The grand parade was a mix of the country's military strength and cultural diversity. Earlier, PM Modi, flanked by Defence Minister Rajnath Singh, and the chiefs of the tri-services, paid homage at the National War Memorial. President Droupadi Murmu, who arrived at the venue accompanied by Chief Guest Abdel Fattah El-Sisi, flagged off the parade to celebrate Republic Day from the Kartavya Path.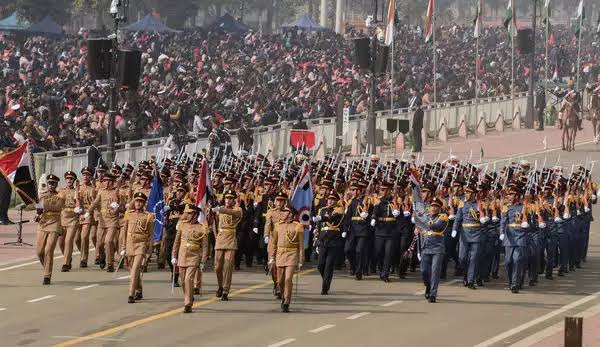 The parade kicked off with a march by a contingent of the Egyptian Armed Forces consisting of 144 soldiers, representing the main branches of the Egyptian Armed Forces.
The Naval contingent, led by a woman officer, featured 3 women, and 6 Agniveers — soldiers in the first batch of the new armed forces recruitment scheme. An all women contingent of the Central Reserve Police Force was one of the highlights this year. Several other marching contingents, including those of the Navy, featured women.
Indian made Arjun, and other systems made in India, including the Akash missile system, were on display. In sync with the Atmanirbharta (self-reliance) motto for the weapons systems on display, there were no Russian tanks this time.
"I wish that we move forward unitedly to fulfill the dreams of the country's great freedom fighters. Happy Republic Day to all fellow Indians!" Greeting people on the occasion, Prime Minister Narendra Modi said it is special this time as it is being celebrated during the "Amrit Mahotsav" of the country's independence.
23 tableaux, 17 from states and union territories, and 6 from various government ministries, depicted India's cultural heritage, economic progress, and national security. This is the second time that the dancers have been selected through a nationwide competition. Cultural performances were presented by 479 artistes chosen through the nationwide "Vande Bharatam" dance competition.