While some of the top Opposition leaders of the country were gathered on the stage of the Bharat Rashtra Samithi (BRS) rally here Wednesday, the import and significance of it seemed to be lost on most in the audience. Audience there to hear KCR, seeks only to hear KCR; but curiosity also about Kejriwal, "who fancies himself as leader who can stand against Modi"
Kerala Chief Minister and CPI(M) leader Pinarayi Vijayan and CPI leader D Raja's speeches in English highlighting the "attacks" on the Constitution and Judiciary by the BJP-led Centre, and appeals to "save democracy from the BJP", were met with boisterous cries asking Telangana CM and BRS chief K Chandrashekar Rao to speak.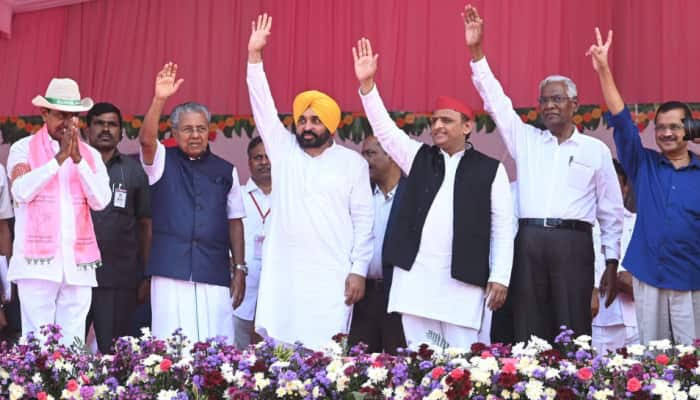 It was only the mention of KCR that stirred the public. The addresses in Hindi by Delhi CM and Aam Aadmi Party supremo Arvind Kejriwal, the party's Punjab CM Bhagwant Mann and Samajwadi Party chief Akhilesh Yadav also drew little or no reaction.
Ideas such as secularism, democracy, federal structure, social justice and equality… they do not know these values on which India has been built as a sovereign, democratic, republic." The crowd, that numbered over a lakh, met the speech with near silence. In an attack on the BJP, Pinarayi said: "We have a peculiar situation in which a political formation that was not part of our national freedom struggle is in power. The followers of those who tendered unconditional apologies to the colonisers and promised to serve the imperial crown are at the helm of affairs today. They have been and remain antagonistic to the values of our anti-colonial struggle.
Mann, who is a hit at rallies in the north with his jokes, tried the same here, but the audience seemed to get little of his speech peppered with shayari directed at the BJP.