The Jammu and Kashmir Police said the organisers of the Bharat Jodo Yatra did not inform it about a large gathering joining the march from Banihal.
The Congress on Friday said the yatra was stopped due to a security lapse and it would only resume after further security was provided. The Jammu and Kashmir Police responded to the allegations by the Congress that there was a security lapse during the Bharat Jodo Yatra and said the organisers of the yatra did not inform it that a large gathering would join the march from the Banihal area.
He added Congress leader KC Venugopal said there was "no security" and Rahul Gandhi could not be allowed to go ahead without security. "Even if he wants to walk, we can't allow it. Senior security officers have to come here."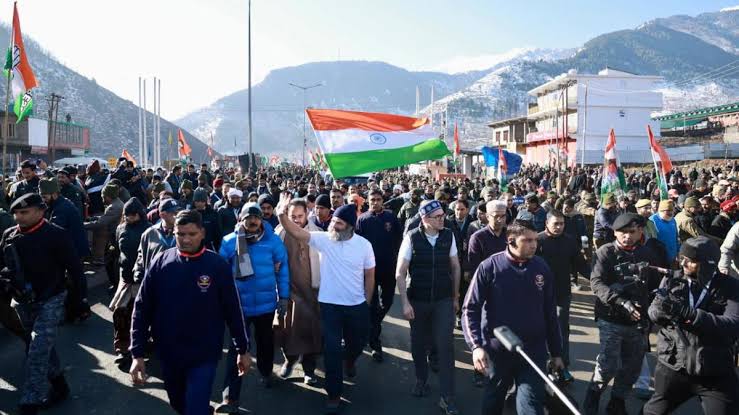 However, the Jammu and Kashmir Police denied that there was any security lapse and said full arrangements were in place including 15 units of Central Armed Police Forces (CAPF), 10 units of J&K police and special forces. It added that the police were not consulted before the yatra was stopped.
The J&K Police said "There was no security lapse at all. We will provide foolproof security." From Banihal, the yatra was supposed to enter the Kashmir valley and reach Anantnag district's Khanabal area. The Bharat Jodo Yatra resumed on Friday from Old Highway in Qazigund in Ramban district around 9:00 am but it came to a halt at Qazigund in Banihal.
Rahul Gandhi said the police system "collapsed" and he cancelled his walk because the organisers were not comfortable with the security arrangements. He also alleged that the police failed to control the crowd.
The yatra started from Kanyakumari on September 7 and entered Jammu and Kashmir via Punjab on January 20. The march will culminate with Gandhi unfurling the national flag at party headquarters in Srinagar and addressing a grand rally at the Sher-e-Kashmir Cricket Stadium on January 30.