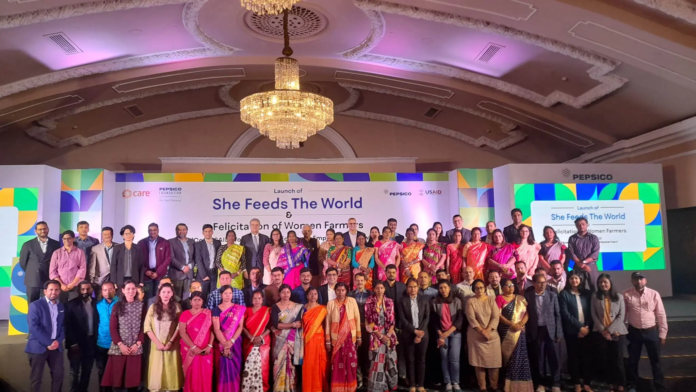 PepsiCo Foundation and international aid organization CARE have partnered to launch the 'She Feeds the World' program, aimed at empowering women farmers and improving food security in developing countries. The program will provide women farmers with the resources and support they need to succeed, including access to training, financial services, and markets.
According to the organizations, empowering women farmers is critical to addressing global food security issues, as women make up a significant portion of the agricultural workforce in many developing countries. However, they often face barriers such as lack of access to resources, markets, and decision-making power, which limit their ability to succeed and contribute to the agricultural sector.
The 'She Feeds the World' program aims to tackle these challenges and provide women farmers with the tools and support they need to succeed. The program will focus on countries with high potential for agricultural growth, including India, sub-Saharan Africa, and Latin America.
The launch of the 'She Feeds the World' program is part of PepsiCo Foundation's ongoing commitment to sustainable agriculture and food security. The foundation has a history of supporting programs that empower women and improve food security, and the partnership with CARE is expected to build on this legacy and make a significant impact on the lives of women farmers in developing countries.
The initiative will begin in the West Bengal districts of Coochbehar and Alipurduar. PepsiCo has taught around 1,500 women farmers in West Bengal on potato agronomy and other skills as part of this project. Through direct and community interaction, the initiative is intended to reach over 300,000 women. The primary goal of this programme is to boost crop output, increase income for women from low-income households, assure access to a nutritious and balanced food, and offer women with sustainable agricultural training.
The initiative, which will largely target small-scale female farmers, will empower women in the agricultural industry.
In developing nations, women account for over half of all agricultural workers and work 13 hours longer per week than males.
According to research, if women farmers have equal access to resources as males, they may raise farm yields by 20-30%, thereby lowering the number of hungry people in the world by 150 million.