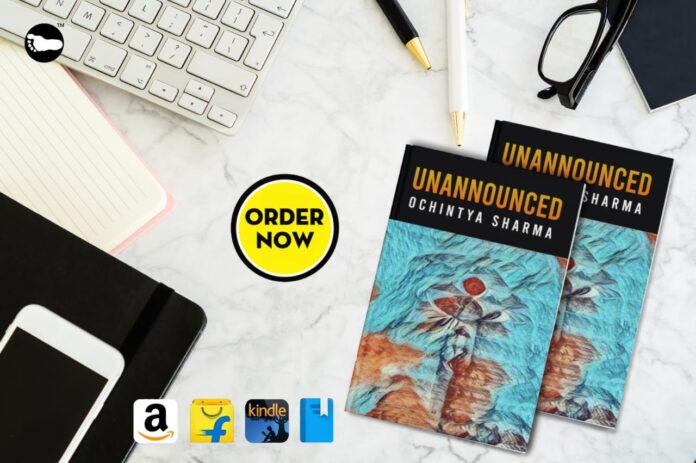 Unannounced is a captivating novel written by author Ochintya Sharma that takes the reader on a journey of self-discovery through the eyes of the protagonist, Anu. A mysterious phone call from stranger gives an unexpected turn in her life, and she finds herself embroiled in a world of mystery.
As Anu struggles to unravel the enigma of who Rajat really is, she is confronted with a series of events that challenge her worldview and force her to confront her deepest fears and desires. Alongside, through the diary pages of Rima, we also meet another cast of fascinating characters, including Ines, a woman struggling to regain her memory and her two daughters. The author teases us to wonder the connections between the parallel threads and that keeps the reader intrigued.
The novel is set against the backdrop of Bangalore, a vibrant and cosmopolitan city and its thriving tech industry. The novel intricately weaves together themes of romance, family, politics, and transformation to create a compelling read. Anu's conflict between her day to day ordinary life and a mysterious pull towards an uncertain future will captivate many readers who may have faced similar dilemmas.
Author's writing style is engaging and vividly captures the essence of the city of Bangalore. The juxtaposition of ancient tales and modern events is a unique aspect of the book that keeps the reader engaged throughout.
One of the most notable aspects of Unannounced is the character development of Anu. Author expertly portrays Anu's journey from a tech-savvy, dispassionate individual to a deeply introspective and empathetic person who is willing to take risks and embrace uncertainty.
Ultimately, "Unannounced" is a story about transformation, about the ways in which our lives can be changed in unexpected and profound ways. With its richly drawn characters and its captivating plot, this novel is a must-read for anyone who enjoys good fiction and a thought-provoking exploration of the human experience.