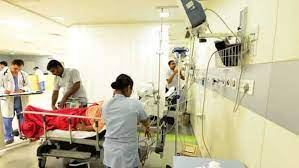 The Indian government has announced plans to combine the Central Government Health Scheme (CGHS) with Ayushman Bharat, the national health insurance scheme. This merger is intended to provide more comprehensive and seamless healthcare coverage for all citizens, especially those who are economically and socially disadvantaged. Under the CGHS, government employees and pensioners are provided with free or subsidized healthcare at designated government hospitals and clinics. Ayushman Bharat, on the other hand, provides health insurance coverage to over 50 crore vulnerable and economically weaker sections of the society.
The merger of the two schemes is expected to increase the reach and coverage of Ayushman Bharat, while also improving the quality and accessibility of healthcare for CGHS beneficiaries. It will also help in reducing the out-of-pocket expenditure for beneficiaries of both the schemes. The government plans to implement the merger in a phased manner, with the necessary infrastructure and systems in place before the launch. This move is considered a significant step towards the government's goal of universal healthcare coverage in India. However, it may also face some challenges in the form of integration of IT systems and coordination among different stakeholders.
Bharat Ayushman Pradhan The Government of India's Mantri Jan Arogya Yojana is a nationwide public health insurance programme that seeks to give low-income individuals in the nation free access to health insurance coverage. Approximately the lowest 50% of the population is eligible for this programme. Individual primary care services are obtained by programme participants from their personal family physicians. Individuals who require specialised care and those who require hospitalization can receive free secondary health care through PM-JAY.
With the Ayushman Bharat Digital Mission (ABDM), the nation's integrated digital health infrastructure will be sustained. Through digital highways, it would close the distance between the various healthcare ecosystem players. Using their 14-digit Ayushman Bharat Health Account (ABHA) number, people may view and manage their medical data online. By having individuals electronically share pertinent health information with ABDM-registered healthcare professionals, it establishes a thorough medical history across all healthcare providers.