Likening himself and Pathaan co-actors Deepika Padukone and John Abraham to "Amar, Akbar, Anthony", the characters from Manmohan Desai's 1977 hit, actor Shah Rukh Khan on Monday said as performers their aim is to spread "love and brotherhood".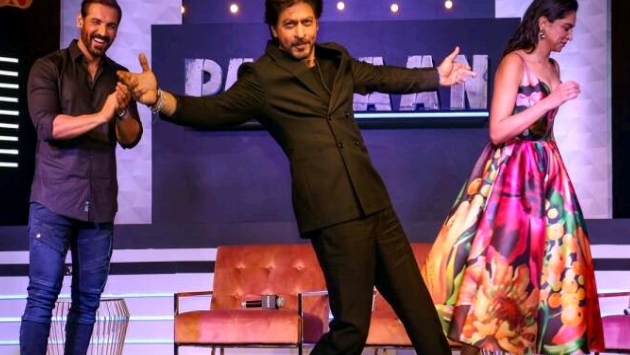 "This is Deepika, she is Amar, I'm Shah Rukh Khan, I'm Akbar and John he is Anthony… We are 'Amar, Akbar, Anthony'. And this is what makes cinema… There are no differences any one of us have with any culture. We are hungry for audience's love. All these crores are not important… The love we receive…nothing is bigger than that," the actor said.The 'team Pathaan' was speaking at an event organised by production banner Yash Raj Films in Mumbai on Monday.Shah Rukh said for artistes, cinema is a medium to entertain and unify the country without hurting any sentiments."To be honest, when we make films, be it in north, south, east, west, our aim is to spread happiness, brotherhood, love, kindness… Even when I'm playing a bad guy in 'Darr' or John is bad in this film… We are just playing characters. None of this is meant to hurt any sentiment. It is just entertainment.
Shah Rukh said the overwhelming love coming his way for "Pathaan" has more than made up for his time away from the movies. "The four years that I had… Covid had good and bad parts. I didn't work. I was with my children. I saw them grow up," he said.
Speaking at a media event on the success of Pathaan, actor Shah Rukh Khan compares himself and his co-stars John Abraham, Deepika Padukone to Manmohan Desai's characters in Amar Akbar Anthony.
The first media outing after the stupendous success of Pathaan, Shah Rukh Khan compared himself and his two co-stars, Deepika Padukone and John Abraham to the iconic characters of Manmohan Desai's classic 1977 film Amar Akbar Anthony. The actor was speaking about playing characters in films and urged audiences that they shouldn't take their alter egos too seriously. He stated that everything is done in the name of entertainment only. (Also read: Shah Rukh Khan says he was 'low on confidence' after Zero; thanks people for bringing life to film industry with Pathaan)