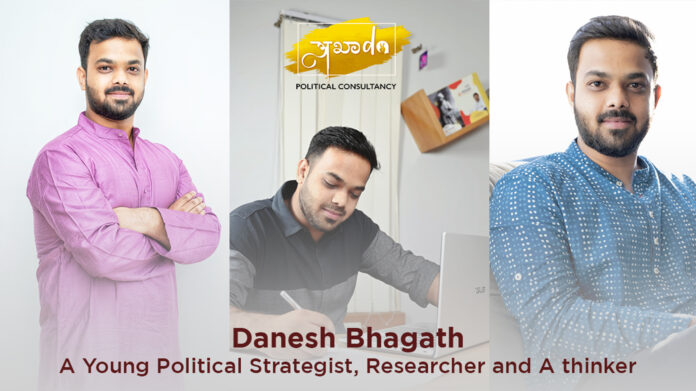 Danesh excels in designing political strategies. A revolutionary at heart, Danesh has dreams of serving the nation in a big way. He has explored various fields of work with an intense desire to bring freshness and contribute positively to humanity. In his exploration journey, he understood that it was only through politics that he could serve the country and fulfill all his dreams. Danesh was stuck with an insight that politics was equally the cause and the solution for all the insufficiencies in the social system. He thus set foot in politics as a strategist, researcher, and thinker.
As the second son of Shri. Narasimha Murthy and Smt. Rajeshwari, Danesh hails from a humble family in Tumkur that holds the annual fairs of the deity of Chitradurga. Shri. Narasimha Murthy was an engineer by profession. He was an ardent patriot who named all his children after freedom fighters. The elder son was named Subhash Chandra (combining the names of Subhash Chandra Bose and Chandrashekar Azad) and Danesh, the younger one, Bhagath Savarkar (combining Bhagath Singh and Veer Savarkar, later changed to Danesh Bhagath). Danesh's childhood was filled with inspiring stories of great freedom fighters. He would listen wide-eyed with amazement as his father narrated stories of scientific advancements. Naturally imbibing the patriotic spirit of his father, Danesh dreamt of seeing his country as an epitome of progress.
Danesh showed signs of leadership qualities very early in his childhood. When Danesh was studying middle school at Sheshadripuram School, Bangalore, he initiated a group in Yelahanka and fought to create awareness against the use of plastic. While in high school, he conceived the idea of today's "Make in India" and undertook campaigns to promote entrepreneurship in India.
Young Danesh had a compelling fascination for filmmaking. He started writing stories for films as early as his school days. Later when he joined Alvas Educational institution, Moodabidri, for his pre-university studies, he got an opportunity to meet Jeevanram Sullia, a great theater artist. He thus commenced his much loved-acting journey and gave performances in various parts of Karnataka.
While at St Joseph's College for his graduation, Danesh got a chance to direct a television series. Being an ever-enthusiast, he took it up happily, only to later find out the unfavourableness of the environment. He had to quit midway as he faced a lot of verbal abuse and insults. Notwithstanding the setback, Danesh gathered his pre-university friends, started his own filmmaking team called "Aroha" and began to produce television series.
A soul with big dreams, the greatest strength of Danesh was his unwillingness to give up. He was criticized for most of his initiatives and continuously ridiculed for his failed efforts. Amidst all this, he always kept alive his leadership abilities, a quest for newness, and a love for social service.
Danesh once wanted to join the "Yuva Brigade" group, but since he could not connect with them, he worked out plans to start his own youth group. As naive as he could be, he went to his college and stood alone outside the gates, holding a sign board to invite students to join in- "An Organisation to serve the nation." When the attempt did not materialize, a stranger suggested to Danesh that he join the "Akhil Bharatiya Vidyarthi Parishad (ABVP)." With that advice, Danesh joined the ABVP and a new journey began.
Danesh worked in the ABVP with great enthusiasm and dedication. He was nominated the Yelahaka city secretary and then got promoted to the position of director of the Yelahanka division. He also became the State Secretary of Rashtriya Kala Manch (RKM). His work with ABVP involved a great deal of traveling across the state; he met many different kinds of people and understood their difficulties. During that period, one truth that struck Danesh was that besides being the root cause, politics was also the solution for all social miseries.
Danesh thus set out to explore politics and sought appointments with several politicians. Despite his best efforts, he did not get a breakthrough. As he was once sitting and introspecting on the banks of the river Tungabadra, he met an elderly gentleman who advised him to become a political strategist to be successful. Feeling encouraged by the old man's words, Danesh returned to Bangalore and set up an office called "Akhaada Political Consultancy."
Since childhood, Danesh possessed an inquiring mind, sharp intellect, and inherent sensitivity. He was an original thinker and a voracious speaker. With a resolve to succeed, he endured all the insults and disappointments that came his way. Danesh was greatly inspired by Dr A.P.J. Abdul Kalam's saying- "History has proven that those who dare to imagine the impossible are the ones who break all human limitations." He decided to go for the impossible and lead an inspirational life.
With a firm resolve, Danesh continued his work with Akhaada. His former experience with devising successful political strategies for ABVP proved very useful. Soon he started getting opportunities to provide political strategy-related guidance to the most senior and well-known political leaders.
The biggest dream that has been with Danesh throughout is that of "Service to the nation." Presently working as a political entrepreneur, he wishes to bring about a new wave in Indian politics. Danesh is a political strategist, researcher, and thinker, working to create revolutionary and inspirational youth organizations for the country.
Website:  www.akhaada.co