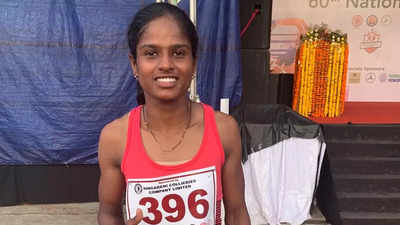 The National Anti-Doping Agency (NADA) has banned Indian triple-jumper Aishwarya Babu for four years after she was found guilty of violating anti-doping rules. Babu was tested positive for a banned substance during the 60th National Open Athletics Championships held in Bhubaneswar in 2022.
NADA's disciplinary panel conducted a hearing into the matter and found Babu guilty of violating the World Anti-Doping Agency's (WADA) norms. The panel also said that the athlete had failed to establish that the violation was not intentional.
Babu's four-year ban will be effective from the date of her provisional suspension in November 2022. The athlete will also be stripped of her results from the championships, including her bronze medal in the women's triple jump.
Babu is a 24-year-old athlete from Kerala and had made her debut in the 2017 Asian Athletics Championships. She had won a silver medal in the 2019 National Open Athletics Championships.
The athlete has the right to appeal against the ban to the Court of Arbitration for Sport (CAS). In a statement, Babu has expressed her shock and disappointment at the decision and has said that she will be appealing the ban.
"I am devastated by this decision, and I strongly believe that I have not taken any banned substances intentionally. I have always followed a strict diet and training regimen, and I will continue to fight to prove my innocence," Babu said.
Babu's ban is a blow to Indian athletics, which has been struggling in recent years to produce world-class athletes. The country has only won two medals in athletics in the Olympic Games since independence.
NADA has been cracking down on doping in Indian sports in recent years, and several high-profile athletes have been banned for violating anti-doping rules. In November 2021, weightlifter Rakhi Halder was also banned for four years by NADA for violating anti-doping rules.
The agency has also been conducting educational programs to create awareness about anti-doping rules among athletes and coaches. The aim is to ensure that athletes compete on a level playing field and to promote fair play in sports.
The ban on Babu is a reminder that anti-doping rules must be strictly enforced to maintain the integrity of sports. It is also a warning to athletes to be careful about what they consume and to ensure that they follow the rules to avoid ruining their careers.