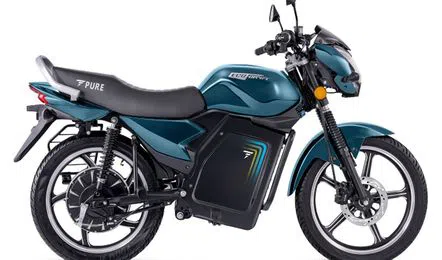 PURE EV ecoDryft: Well-known electric two-wheeler company Pure EV has launched the commuter electric motorcycle ecoDryft at a starting price of Rs 99,999 (ex-showroom, Delhi, inclusive of state subsidy).
The company revealed that this motorcycle will be available in four colors (Black, Grey, Blue, Red). The EcoDrift was developed at Pure EV's technology manufacturing facility in Hyderabad. It can reach a maximum speed of 75 kilometers per hour. It can travel up to 130 kilometers on a single charge with three driving modes.
The drive train has an AIS 156 certified 3.0 kWh battery with smart BMS. It also has Bluetooth connectivity, a 3kW motor, CAN-based charger, controller, and instrument cluster-based features that allow for future firmware upgrades. Rohit Vadera, Co-Founder and Chief Executive Officer, Pure EV Startup said, "Over the past two months, we have made demo vehicles available for test drives at all our over 100 dealerships across India.
We are also getting unprecedented response from customers. We have started advance bookings for Ecodrift at the respective dealers. We will deliver the first batch of vehicles from the first week of March," he said.
Referring to the importance of the Eco Drift innovation, he said, "About 65% of two-wheeler sales in the country are from commuter motorcycles, we believe that with the Eco Drift innovation, mass adoption of electric vehicles will be possible."
However, the launch price of the latest motorcycle (99,999 rupees) is applicable only in New Delhi. The EcoDrift will be priced at Rs 1,14,999 (ex-showroom) across the rest of India. On-road prices are subject to state subsidies and RTO fees.