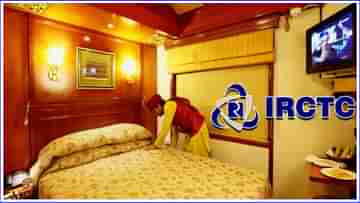 Indian Railways provides various services for passengers. Millions of people travel by trains every day. Railway department to provide better services to passengers. Indian Railways provides various services for passengers. Millions of people travel by trains every day.
Railway department provides many facilities to provide better services to the passengers. The main railway facilities are waiting rooms. Passengers can wait for the arrival of the train in the waiting hall of the railway station.
Similarly there are waiting rooms in case of last minute cancellation or rescheduling of the train due to any reason. But this facility is applicable only for passengers who have reserved ticket. Here you can spend just Rs. 40 can be 48 hours in a luxury room.
You will get all the comforts of a luxury hotel in an Indian Railway Retiring Room. Railway department is making this facility available at most major stations. Trains run very late in winter. Due to this, passengers have to wait. Many passengers have to lose their lives due to the cold.
But now the railway department has taken this important decision to prevent such a thing from happening. Because IRCTC started this service keeping in mind the comfort of passengers.Indian Railways has prepared luxurious retiring rooms keeping in mind the comfort of its passengers.
You must have PNR number to book this room. You will get this facility in Railway Retiring Room. You can stay in this room for 48 hours. Here they charge you only 20-40 rupees. It has all kinds of facilities.
Retiring room facility at major stations: The railway department said that the facility of retiring rooms is available at all major stations like New Delhi, Mumbai and Pune. You can book these rooms using your ticket PNR number. You can book AC and Non AC rooms as per your convenience.
Retiring room will be allotted to you on first come first serve basis. If rooms are in waiting list. Your booking will be upgraded as soon as rooms become available. To book a room first visit IRCTC official website irctctourism.com.
☛ Click on the Indian Railway Retiring Room option on the home page to see if the retiring room facility is available at the respective station.
☛ Then click on retiring room booking option.
☛ You have to enter PNR number, Aadhaar number.
☛ After this choose Deluxe/AC/Non AC option. Then click on the booking option and pay the fee.
☛ Your room will be booked. Retiring room number and other details will be sent to the IRCTC registered mobile number in the form of SMS.Five star room for Rs 40: If a train is delayed or canceled at a railway station, now passengers don't have to stand and wait in the cold on the platform.
Indian Railways has brought special facility for passengers. Now you can book a retiring room for just Rs.40. Facilities in railway retiring room are good. These retiring rooms can be booked for a minimum of 3 hours and a maximum of 48 hours. It also includes AC deluxe, AC and normal room options. Single bedrooms for single passengers and double bedrooms for double passengers can be booked.